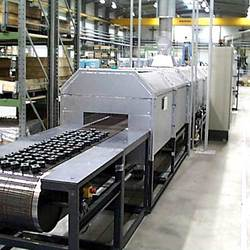 Our clients can avail from us superior quality range of Tempering Furnace which is suitable for all kinds of tampering job. These durable and high performance furnace are managed by electricity or oil both. We offer a high performance range of furnace which is precisely engineered by our expert professionals. The range is also customized as per client's requirement.
NewTech standard 7500C tempering furnaces are used for a variety of heat-treating applications including those requiring inert atmospheres. Recirculating blower provides high velocity vertical down airflow for excellent heat transfer from 4250C to 7500C. Precision microprocessor based temperature controls and energy-saving insulation maximize the performance of these rugged units
STANDARD FEATURES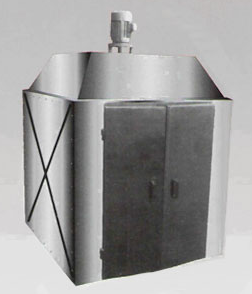 Controls:
Digital, microprocessor based, thermocouple actuated, indicating temperature controller,
Modulating burner on gas furnaces,
Motor control push buttons and on-off heat switch,
Easy-to-see pilot lights,
Safety Equipment - Electric Furnace:
Adjustable, thermocouple actuated, manual reset excess temperature controller.,
Separate heating element control contactors,
Recirculating blower air flow safety switch,
Door interlock switch turns off power to heating elements when door is opened; restores power when door is closed
Safety Equipment - Gas Furnace :
Adjustable, thermocouple actuated, manual reset excess temperature controller.,
Electronic flame safeguard protection,
Stainless steel powered forced exhauster,
Exhauster air flow safety switch,
Recirculating blower air flow safety switch,
Purge timer,
High and low gas pressure switches - Latch-type manual reset main gas valve,
Testing device to test tight closure of main gas valve,
Solenoid blocking valve upto 400,000 BTU/HR heat input; motorized backup valve and vent valve over 400,000 BTU/hr.
Construction:
Vertical down airflow specifically designed for tempering.,
High pressure, air-cooled, stainless steel recirculating blower,
Adjustable patented opposed louvers on full coverage supply and return ductwork,
3/16" steel plate reinforced furnace shell,
½" thick steel front plate,
16 gauge stainless steel interior,
Work space bottom reinforced with stainless steel grid,
Brushed stainless steel control panel face,
Powered vertical lift door; hot side faces away from operator,
Energy - saving light weight ceramic fiber insulation,
Fast heat - up and cool-down,
Built-in baffles prevent radiant heat,
Adjustable fresh air intake and exhaust dampers,
1 year limited warranty,
Every furnace fully assembled and individually factory tested.